Several disruptive factors including a hurricane and diseases, caused a slump in the production and exports of Primary products such as Citrus, Bananas and Shrimps in 2016. These factors allowed for a drop of about 25% in export revenues figures from $535 Million in 2015 to $402 Million in 2016. However, notable increases in production were observed in the Sugarcane and Wood sectors, and a further diversification in export markets.
The effects of the hurricane and the diseases were quite profound; the Central Bank Report for 2016 ideally summarised this, "In addition to the loss of supply capacity due to the closure of the Meridian group of banana farms and citrus greening, Hurricane Earl wreaked havoc in early August across the citrus and banana belts, destroying an offseason crop of citrus and flattening large swaths of banana acreage. Adding to the downturn, the closure of the largest producer decimated papaya production. The woes continued with farmed shrimp production shrinking to historically low levels following an outbreak of the Early Mortality Syndrome in 2015, which scaled down output to test trial quantities during 2016." It is expected that production affected by the Hurricane will be resurge after a year, and Investments in new technologies for the Shrimp industry is expected to resurrect the industry in the coming years.
New and growing markets for non-traditional products have been increasing by more than 100% over the last several years. These are notably: Shell fish and Sea Cucumbers to Hong Kong; Beans and Peas to Pakistan, Animal feed to Puerto Rico, Shell fish and a significant percentage of Citrus Oils to Germany.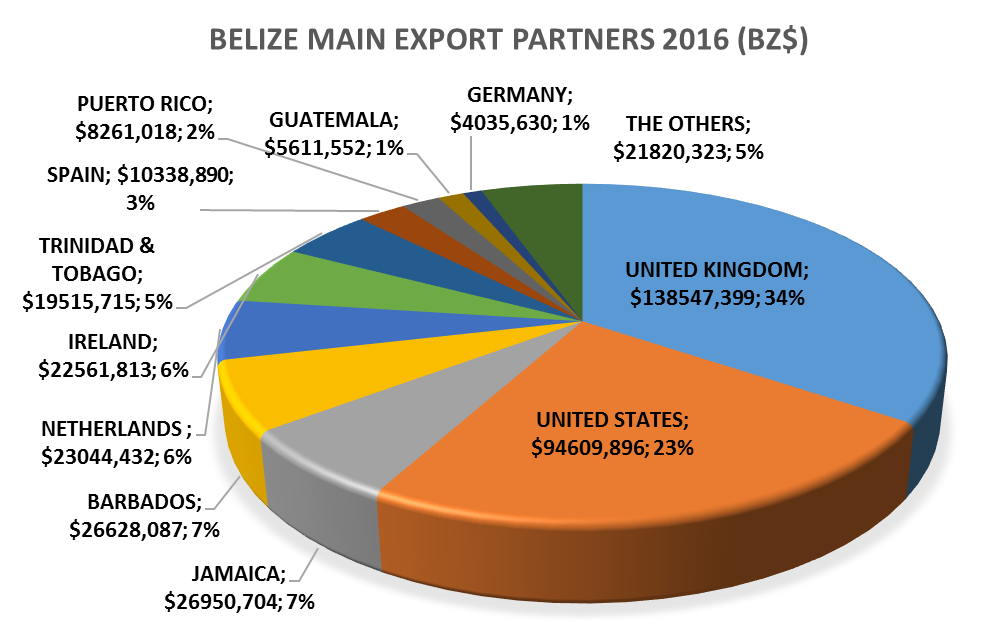 The United Kingdom has replaced the United States as the main export partner in 2016. This is mainly due to the UK absorbing most of Belize's export of Bananas, Sugar, and some Shrimp. Most of the Wood,  Shellfish,  Papayas, and Orange Juice is exported to the US.
CARICOM member states remain vital trading partners, with Petroleum consistently reaching Barbados, and other traditional exports along with Beans and Animal Feed going to Jamaica and Trinidad and Tobago. Sugar is now being exported to Spain and this is expected to increase significantly as Santander reaches peak production. Ireland continues to import a significant percentage of Bananas. A significant percentage of Citrus Peels, Oils, and Juices enter the port of the Netherlands.